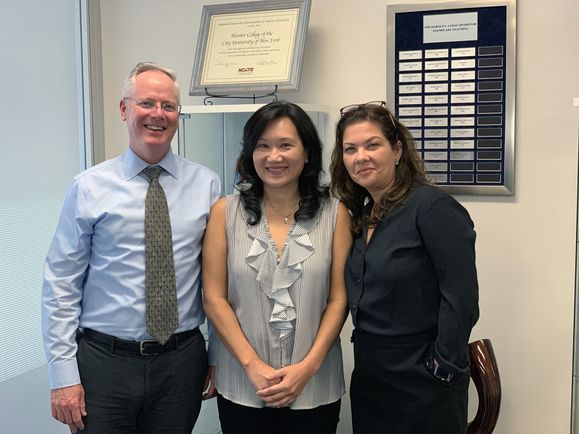 Dr. Peggy P. Chen Receives Harold S. Ladas Award for Exemplary Teaching
Dr. Peggy P. Chen, Associate Professor of Educational Psychology, received the Ladas Award for Exemplary Teaching at the School of Education's Celebration of Faculty Teaching and Scholarship.
Dr. Harold S. Ladas, in whose memory the School of Education presents this award, noted that good teaching was demonstrated in 6 distinct ways: 1) encouragement and constructive criticism, 2) aiming for students to learn at the mastery level, 3) communicating the relevance of the material, mastering it yourself, and communicating enthusiasm about it, 4) making lessons as meaningful as possible by helping students make as many associations to the lesson as possible, 5) constantly striving to improve your teaching through the use of student data and, 6) applying new research findings in one's teaching. Each one of these characteristics are evident in Prof. Chen's teaching.
As many faculty members can attest, the area of Assessment is one that is often feared by teacher candidates due to the degree of mathematics and statistics involved. Prof. Chen has worked extremely hard to be responsive to these realities in both the design and delivery of her courses. She has developed a rigorous portfolio project that is evidence-based and responsive to national and local standards. Prof. Chen has also designed and delivered courses that are practical in nature, comprehensive in scope, and current within the field of educational assessment.
Prof. Chen has also served as a course leader for our Assessment courses. In that role, she has supported adjunct faculty in their teaching of all of our Assessment courses. This is a particularly critical leadership role in that our courses cover three distinct programs (Early Childhood, Childhood, and Adolescent Education).
Prof. Chen has consistently received both strong peer and student evaluations. She has been characterized by her peers as a "very skilled communicator and an effective listener" and has been praised for her ability to continually respond to students in a manner that encouraged their classroom participation. She has been regularly praised by her students for her patience and practical advice and has been particularly applauded for her ability to make the challenging content of her Assessment courses "accessible and interesting."
At the celebration, the community also honored the book publications of the following faculty and staff:
Laura Baecher: Video in Teacher Learning: Through Their Own Eyes
Sarah Bonner and Peggy Chen: Systematic Classroom Assessment
Sherryl Browne Graves and Erin Shay et. al. (ed.): Pedagogical Content Knowledge in STEM
Catherine Voulgarides: Does Compliance Matter in Special Education?
Anthony Picciano: Post-Recession Community College Reform: A Decade of Experimentation