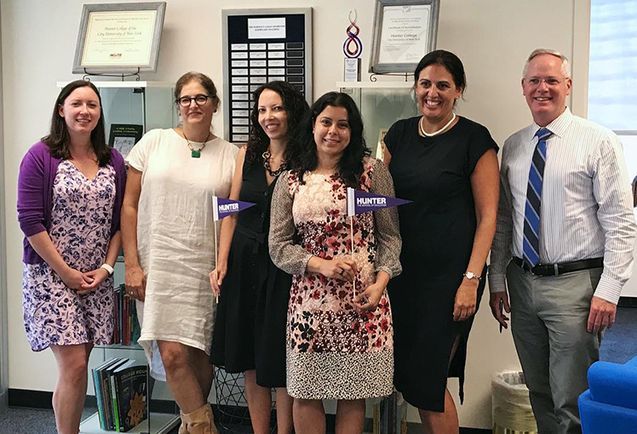 The School of Education Welcomes New Faculty
We are pleased to welcome Instructor L. Beth Brady (Special Education), Substitute Distinguished Lecturer Nell Panero (Curriculum and Teaching), Lecturer Maria Mavrides (Curriculum and Teaching), Assistant Professor Sarika Gupta (Special Education) and Assistant Professor Nicora Placa (Curriculum and Teaching) to the School of Education.
L. Beth Brady
Instructor L. Beth Brady was an adjunct lecturer at Hunter College since 2016, teaching foundation classes on severe and multiple disabilities, in addition to hosting numerous Hunter student teachers in her middle school classroom through the years. Prior to accepting a full-time position at Hunter College, Beth was an itinerant teacher of students with visual impairments in the New York City Public Schools, after beginning her career as a classroom special education teacher of learners with severe/multiple disabilities in New York City's District 75 and at the Boston College Campus School.
Dr. Sarika Gupta
Dr. Sarika Gupta is an Assistant Professor in the Early Childhood Special Education Program at Hunter College. She earned a Ph.D. in Special Education from the University of Maryland and completed a postdoctoral fellowship in Early Childhood Special Education Leadership at the University of Colorado Denver. She currently serves as an Associate Editor for Young Exceptional Children. Dr. Gupta's prior teaching experiences include teaching young children, 0-5, with and without disabilities in regular and inclusive settings, coaching Head Start teachers, and preparing preservice teachers in early childhood special education programs across several institutions of higher education in MD/DC/VA.
Maria Mavrides
Prior to joining the department of Curriculum and Teaching as a lecturer, Maria Mavrides was an Education Director and team leader of early childhood programs for University Settlement, one of the largest Community Based Organizations in New York City. In her role as director, she trained, mentored and supervised teachers working in diverse classrooms. Maria led several advocacy initiatives, including developing regulations for the safety of young children, leading efforts to gain salary parity for CBO teachers; and maintaining funding for Early Learn and Head Start. Maria is working on her Ed.D. in Instructional Leadership at Hunter College.
Nell Panero
Substitute Distinguished Lecturer Nell Scharff Panero has worked at CUNY for 28 years and is happy to be returning to Hunter College. Since 1994 she has been a faculty member in Educational Leadership at the W. Austin Marxe School of Public and International Affairs at Baruch College, most recently as an Assistant Professor and the Director of Baruch's Center for Educational Leadership. While at Baruch, she co-developed and was the director of the Scaffolded Apprenticeship Model of School Improvement (SAM), which forms the basis of Hunter's current CLASS program. She is active in school reform in New York City and her practice and research focus on literacy and school improvement, especially for high schools.
Dr. Nicora Placa
Prior to becoming an Assistant Professor here at the School of Education, Dr. Nicora Placa was a doctoral lecturer for two years. She earned her Ph.D. in mathematics education at NYU. Previously, she taught elementary and middle school mathematics in New York City and has worked with teachers both nationally and internationally. Her current research is focused on exploring teacher learning, particularly urban K-8 mathematics teachers and teacher leaders.  She is a co-PI on an NSF study titled "Taking a Deep Dive: Investigating PD impact on what teachers take up and use in their classroom."