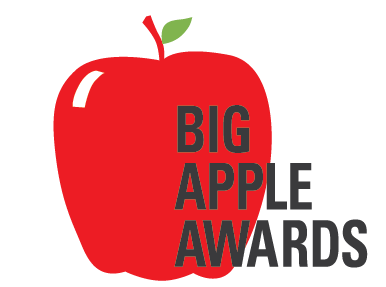 Three Hunter Alums Win 2020 Big Apple Awards
The Hunter College School of Education is pleased to announce that three of its graduates have been recognized as recipients of the 2020 Big Apple Awards. These awards celebrate New York City teachers who inspire students, model great teaching, and enrich their school communities. Recipients are nominated by parents, administrators, and community representatives, and nominations are reviewed by a committee of the Department of Education with finalists recommended to the Chancellor by a Board of Judges. We congratulate all of this year's recipients, especially these alums of Hunter.
Vanessa DiServio, whose Bachelor's from Hunter was in Health and Physical Education, is a veteran teacher of Physical Education at the Hudson High School of Learning Technologies in Manhattan. Her achievements include her work with teachers and administrators to embed social emotional learning competencies while helping to create a culturally responsive and inclusive school environment. She has also been instrumental in ensuring that children in the Bronx who do not have access to technology continue to receive the support they need at home.
Donna Griebel, who received her Advanced Certificate in TESOL (Teaching English to Speakers of Other Languages) from Hunter, is an Early Childhood Teacher at the Brooklyn Arbor Elementary School. She instills in her students "the value of democracy" and "respect [for] both the individual and the community." She also hosts "Family Fridays" in her classroom so that parents and family members can actively participate in classroom activities. She also collaborates with colleagues from across her district by hosting monthly professional learning community visits in her classroom.
Emma Comstock Reid, whose MSEd from Hunter was in Adolescent Special Education, is a Middle School Mathematics Teacher at the Fannie Lou Hamer Middle School in the Bronx. Her love of teaching began in an after school program. She became a New York City Teaching Fellow and eventually pursued her certification in mathematics in response to the needs of her school community. She supports her colleagues as a Peer Collaborative Teacher, takes on leadership roles including with the school's equity work, and facilitates a professional learning community focused on remote learning which includes the development of math lesson plans for students across the district.
To learn more about Vanessa, Donna, Emma, and the other 2020 Big Apple Award winners, please visit the NYC DOE website.