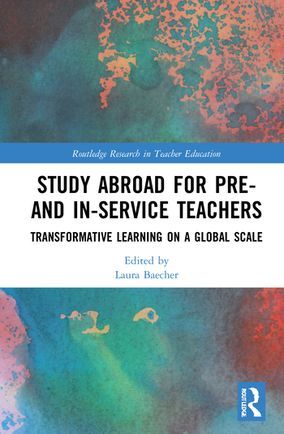 Study Abroad for Pre- and In-Service Teachers: A New Book Edited by Laura Baecher
"Study Abroad for Pre- and In-Service Teachers: Transformative Learning on a Global Scale," a new book edited by Laura Baecher, is now available via Routledge. By exploring the experiences of pre- and in-service teachers, as well as the design and implementation of study abroad programs developed specifically for them, this volume highlights the potential of international learning in promoting teachers' global and critical understandings of their roles as educators in an increasingly diverse and interconnected world.
Recognizing teacher study abroad as a unique strand within the wider foreign education literature, "Study Abroad for Pre- and In-Service Teachers" emphasizes how it can be conceptualized, theorized, and implemented as part of initial and continuing teacher training. Chapters consider study abroad programs and teaching practices in Europe, Asia, the Americas, and in Indigenous communities, and document the transformative learning experiences which impact the way teachers think about learning, teaching, and identity. Together, the chapters foreground the personal and professional advantages of teacher study abroad and provide key insights to inform design and programming for sustainable, impactful teacher study abroad which supports teachers in building intercultural competence and enhances their capacity to serve students of varying cultural and linguistic backgrounds.
Laura Baecher is an Associate Professor of TESOL at the School of Education.