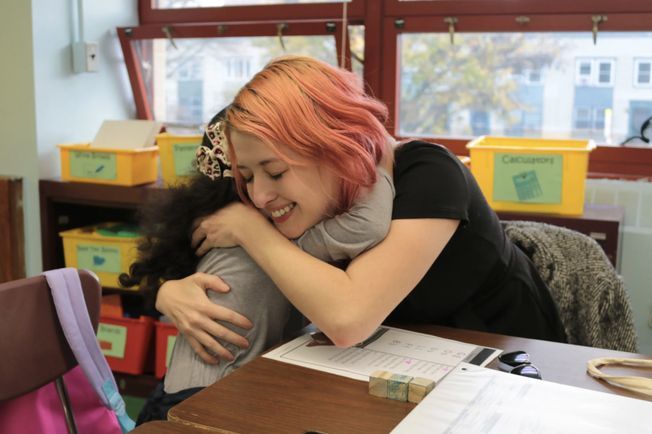 Student Spotlight: Undergraduate Mary Escobar
Mary Escobar, an undergraduate in the Childhood Education program, discussed her experience with CUNY Reading Corps in a recent article in Chalkbeat called "Half of NYC students are behind in reading. Hundreds of CUNY tutors aim to change that." We took the opportunity to catch up with Mary about her experience as a student in the School of Education.
Why did you choose to join this Education major?
When I was in elementary school, I always wanted to be a teacher. As I got older, financial and personal circumstances made it seem unattainable and I abandoned the dream for many years. But eventually, I couldn't deny the intense fulfillment that comes from working with kids and accepted that I owed it to myself to at least TRY to become a teacher. When I decided to really go for it, I knew elementary school education would be the place for me. Kids that age are endlessly fascinating and evolving every day, and there's no greater gift than getting to know them and seeing your impact on their formative development.
Once I finished my associate's at Borough of Manhattan Community College (BMCC), I transferred to Hunter because I wanted to be part of its amazing legacy. I wasn't super familiar with the School of Education (SOE) or what to expect from this level of higher education, but I knew that coming from Hunter would set me up for success in the New York school system.
Can you share a memorable experience from your program so far?
My favorite part of the program so far has been all of the art projects I've got to work on with the sixth graders I see at fieldwork on Fridays. Last week, we made ornaments for the class Christmas tree, and I got to make the star for the top! It was so interesting to see all the students' interests– there were A LOT of anime characters on that tree. This week, we made 3D maps with art supplies like tissue paper, paint, and clay. It was so messy but tons of fun!
What advice would you share with someone who is thinking about studying education?
My advice would be to go for it as soon as possible! The sooner you get started, the sooner you'll be bonding with students you'll remember forever and building your own dream classroom. Working in a New York public school, I see how many kids are eager for connection and growth. I see what a huge difference feeling valued and understood makes to their academic and emotional wellbeing, and I just can't wait until I'm spending my days providing that to as many students as possible. And just as we appreciate the kaleidoscope of all different children's strengths and abilities, the "perfect teacher" isn't any one type of person- it's anyone who cares deeply about children and is ready to put in the work to best serve them.