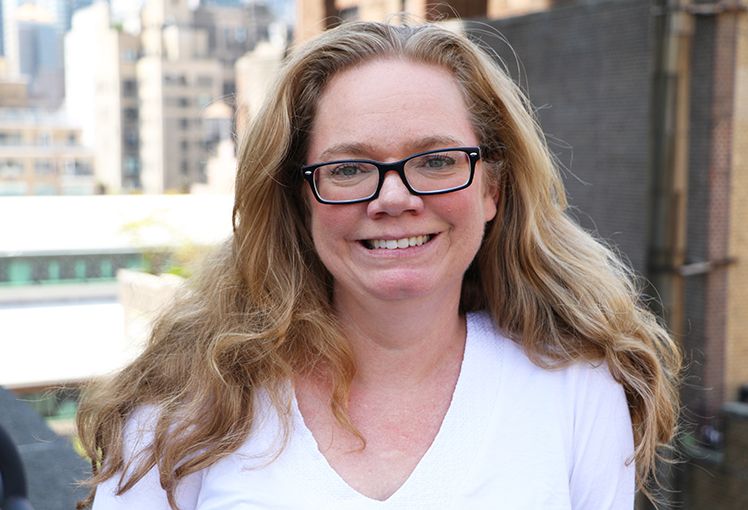 Ladas Award for Teaching Presented to Dr. Amanda Crowell
Harold S. Ladas Award for Exemplary Teaching
Each year the School of Education awards the Harold S. Ladas Award for Exemplary Teaching to a member of the faculty.  The award is sponsored by the Ladas family to honor Dr. Harold S. Ladas, a professor of educational psychology at Hunter College. Throughout his career at Hunter, Professor Ladas studied the research and literature about successful teachers and successful teaching, applying what he learned to his own teaching. Professor Ladas noted that good teaching was demonstrated in 6 distinct ways: 1) encouragement and constructive criticism, 2) aiming for students to learn at the mastery level, 3) communicating the relevance of the material, mastering it yourself, and communicating enthusiasm about it, 4) making lessons as meaningful as possible by helping students make as many associations to the lesson as possible, 5) constantly striving to improve your teaching through the use of student data and, 6) applying new research findings in one's teaching.
This year the award was given to Dr. Amanda Crowell, director of the QUEST program and a member of the Department of Educational Foundations and Counseling Programs, whose teaching aligns with Dr. Ladas' ideals. Dr. Crowell has consistently received both strong peer and student evaluations. She has been characterized by her peers as a "very skilled communicator and an effective listener" and has been praised for her ability to continually respond to students in a manner that encourages classroom participation. She has been regularly praised by her students for her patience and practical advice. She has been particularly applauded for her ability to make the challenging content of her courses "accessible and interesting."
Dr. Crowell has also served as a course leader for our Child Development and Educational Psychology courses. In that role, she has supported adjunct faculty in their teaching of across all of our Educational Foundations courses. This is a particularly critical leadership role because our courses cover three distinct programs: Early Childhood, Childhood, and Adolescent Education.
The ceremony honoring Dr. Crowell was held in the Charlotte Frank Room, and in addition to the faculty and staff who attended in person, many guests attended online via Zoom, most notably Dr. Ladas' widow, Dr. Alice Kahn Ladas.
Celebration of Scholarly Achievements
In addition to the presentation of the Ladas Award, the community celebrated the scholarly achievements of several faculty members who have published books in the past year.
Amanda Crowell
Great Work: Do What Matters Without Sacrificing Everything Else
Advancing Supervision in Clinically Based Teacher Education: Advances, Opportunities and Explorations
Short Geometry Labs: Visual and Tactile Understanding First
The Computer Wasn't In The Basement Anymore: My Fifty + Years in Education Technology (1970-1921)
Facilitating Youth-Led Book Clubs as Transformative and Inclusive Spaces
Transformative Translanguaging Espacios: Latinx Students and their Teachers Rompiendo Fronteras sin Miedo