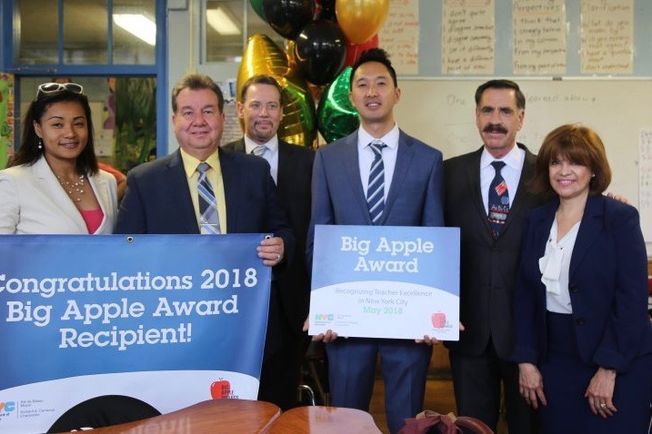 Two of this year's Big Apple Awards were Ryuma Tenaca and Damen Davis, graduates of the Hunter College School of Education.
Hunter College School of Education Alums Receive Big Apple Awards
There are 79,000 teachers in the New York City Public School system. Every year, students, families, and school communities nominate outstanding teachers to be receive the Big Apple Award, a citywide recognition that celebrates teachers who inspire students, model great teaching, and enrich their school communities.  Recipients of the award are recognized for going above and beyond to serve their students and families.
This year, there were over 6500 nominations for the 17 prestigious awards. Among the winners were two graduates of the Hunter College School of Education.
Damen Davis (Childhood Special Education MSEd '16) is a special educator and teacher of English Language Arts at IS 303 in the Bronx. Mr. Davis engages with the neighborhood in District 9 to better know his students. He "reaches out to school support staff, contact[s] his students' elementary teachers and coaches, and [meets] with parents at their homes and in the community. He even regularly wakes up early to knock on students' doors to ensure they get to school on time."
Ryuma Tanaka (TESOL MA '12) is an English as a Second Language teacher at IS 145 in Queens. His approach to English language teaching is to incorporate his students' native cultures into the culture of the classroom. "Mr. Tanaka connects his own experiences of being bilingual and bicultural with those of his immigrant students, many of whom are new to the United States. Mr. Tanaka works to empower his students while appreciating the experiences that may affect them socially, emotionally and academically. He reinforces to his ELLs students that they are not "English deficient", but are becoming bilingual, and will be twice as valuable in college and job markets once they master English."
You can read about them and the other winners on the NYC DOE website.
We at the School of Education offer our most enthusiastic congratulations to our prestigious alumni!