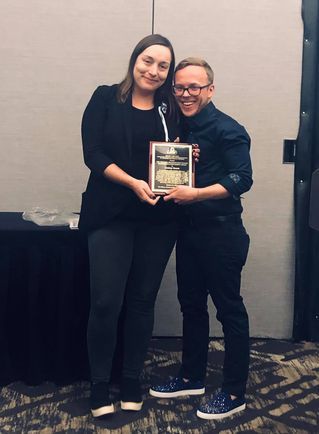 Adjunct Lecturer Lindsay Orcutt Receives Achievement Award
Adjunct Lecturer Lindsay Orcutt received this year's New York State Association for Education and Rehabilitation of the Blind and Visually Impaired (NYSAER) Veronica Gilligan and Anne Yeadon Meritorious Achievement Award. The award is given to someone who has made an outstanding contribution to working with people who are visually impaired in New York State.
Orcutt has been a Hunter Adjunct Lecturer for the past seven years, teaching courses in Orientation and Mobility and Nemeth Braille Code for Mathematics. Jonathan Hopper, Hunter Braille adjunct, presented the award. Congratulations Lindsay!