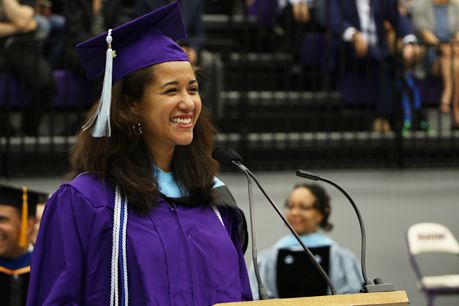 School of Education Spring Commencement
Tue, May 29 2018 5:00pm

-

7:00pm
The School of Education Commencement Ceremony is separate from, and smaller than the main Hunter College Commencement Ceremony. Students will have their name read aloud and walk across the stage at the School of Education Commencement Ceremony. Students are encouraged to attend both events. The School of Education Commencement Ceremony will be no more than 1.5 hours long. Doors open to guests at 3:30pm.
Eligibility
Eligible students will receive an invitation to participate in Commencement through their myHUNTER email account. The following students are eligible to participate in this spring's School of Education Commencement Ceremony:
Fall 2017 and Winter 2018 graduates
Spring and Summer 2018 students who have applied to graduate
Tickets
Tickets are required for entry. Graduates are provided 2 guest tickets. All guests must be ticketed, with the exception of infants and toddlers (0 – 5 years old) who can remain on an adult's lap for the duration of the ceremony. Public safety officers will enforce this policy.
RSVP
Students must RSVP to participate in Commencement and reserve their guest tickets. Students who RSVP by May 1st will be included in the Commencement Program.
Robes
Purchase a cap, gown, and tassel from Shakespeare & Co – choose Shop from the menu bar and then select Hunter College Cap & Gowns from the drop down. School of Education students wear the light blue tassel provided.
When ordering your commencement regalia, undergraduates select "School of Education" under Area of Study. Graduates select "Master of Education."
Unpack in advance. Gowns and hoods may need to be steamed or gently ironed. Feel free to decorate your cap.
Robing
Students must arrive to robing at 3:30 pm on the day of the ceremony. Students must bring their cap, gown, hood, and tassel. There will be no coat check. Students must carry everything they bring to student robing during the ceremony. Guests are not permitted into student robing.
For questions regarding School of Education Commencement, please contact commencement@huntersoe.org.